The information below on fires is through the courtesy of the Hyrum 9th Ward, The Church of Jesus Christ of Latter-Day Saints, Hyrum, Utah.
Fires are dangerous and destructive. There are some easy steps you can take to reduce the chance that anyone will be injured in fires in your home. Use the Fires Safety Checklist below to help keep your home free of fires and the hazards they bring.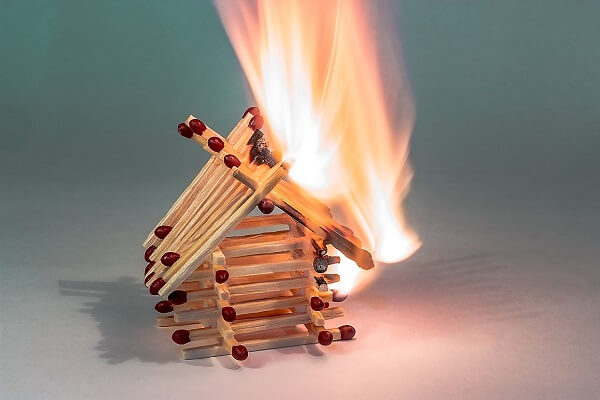 Fires Safety Checklist
Install smoke detectors on every level of your home and near each bedroom. Place a small detector inside if you sleep with the bedroom door closed. Have your children help you test them each month.
Buy fire extinguishers and place them upstairs and in the vicinity of kitchen, garage, laundry room, and fireplace.
Keep matches and lighters hidden and out of children's reach.
Teach children not to play with matches. [According to FEMA (Federal Emergency Management Agency), a leading cause of home fires is children playing with lighters or matches. Often, children and others in the affected homes are hurt.
Teach children to stay away from hot things on the kitchen stove or outside grill. Turn pot handles inward.
Replace frayed, cracked, or broken electrical cords. [According to INTERNACHI (International Association of Certified Home Inspectors), "electrical fires in our homes claim the lives of 485 Americans each year and injure 2,305 more."
Do not overload outlets. Use ground-fault circuit-interrupters in outlets near sink areas and outdoors.
Keep space heaters at least three feet away from anything that can burn. Turn them off when you leave a room or go to bed.
Make sure everyone knows two ways out of every room.  Designate a place outside where everyone can meet in case of fires.
Make sure all exits from rooms are clear of obstructions.
Have a fire escape plan for your family. You need it before the fires start to rage. Have your fires checklist readily available.
Add to your Fires Safety Checklist
Post emergency telephone numbers by phones.
Teach children how to and when to call 911 or your local emergency medical service.
Show each family member how and when to turn off the water, gas, and electricity.
Check if you have adequate insurance coverage.
Teach each family member how to use the fire extinguisher, and show them where you keep it.
Conduct a home hazard hunt.
Stock emergency supplies and assemble a disaster supplies kit.
Take a course in first aid and a CPR class.
Find the safe spots in your home for each type of disaster. Fires are just one of those disasters.